Reliable and Cost-Effective Aluminum Fencing and Gates
Install the ideal barrier for your property with our aluminum fencing products. We supply aluminum fence panels and gates for residential, commercial, and industrial properties.
5 – 6 week lead time + shipping time to your home or business. We will notify you, by email, on the day your order ships and provide you with your tracking information.
There's no need to worry because we take our job seriously and professionally. Sit back and wait for our staff to deliver your brand new aluminum panel fence. Better yet, read our Aluminum Fence & Gate Installation Guide to help prepare for your DIY installation.
Residential Aluminum Fences
Browse through the aluminum fencing panels we supply for households and light commercial applications. Whether it's for your garden, backyard, small ranch, or swimming pool, our professional team has got you covered.
Feel free to choose from our range of styles, which differ in terms of top design, spacing and pickets. We have tested our panels for horizontal force resistance using the rail strength test to give you peace of mind that our fencing products are trustworthy.
Commercial Aluminum Fences
Check our aluminum fence panels to find out why commercial property owners trust us. From Styles 1–10, we provide 20% more metal built in, compared to other brands, for strength you can count on.
Our panels have larger pickets and rails and 8 metal support ribs in each rail, giving your property the protection it needs.
If you have dogs and other small pets, we'll be glad to include a puppy pickets for any style that you order. All styles include optional accessories, such as straight mount brackets, rings, finials, large scrolls, and horizontal and vertical swivel mounts for angles, hills, slopes and stairs.
Industrial Aluminum Fences
The industrial aluminum panel fencing is our flagship offering—the ultimate security barrier and the heaviest product for high traffic areas. Browse through the styles available and decide whether to have a flat, speared, or a combination of both tops.
Ideal for retail centers, schools, storage units, hospitals, high estate barriers, our industrial fencing offers optional double pickets for additional privacy. Orders can go up to 10 feet high. All our aluminum fence panels come with a matching stainless steel, colored-head, self-tapping panel-to-post connection hardware. With these inclusions, you can take a DIY approach to your aluminum fence installation, like 90 percent of our clients do. Should you run into any snags, though, you can call us for free technical support.
Anything from Decorative to Privacy Metal Fencing Panels
Our metal fence panels do not need regular cleaning and treatment, plus they're rust free, so you can easily maintain them. What's more, our metal fences are not difficult to install, making your commercial property easy to protect.
Security, privacy, and appearance are some of the top reasons you may need to install metal fences around your property.
Our metal privacy fence panels will provide your property the security it needs while giving it a sophisticated aesthetic. They help keep prying eyes from looking inside your property, which can also help reduce instances of theft and intrusion.
But the benefits don't end there—you have nine colors to choose from with no difference in cost! Options for our decorative metal fencing also include several fence panel heights and widths, which we can trim to fit, on-site, during installation. This means you can easily match these panels with your property's aesthetic.
All of these features, and more, make our metal fence panels a durable and cost-effective investment for your commercial property.
Designs For Every Need
Not only is there a fence design for everyone, but there is a fence design for every property. From family homes and apartment buildings to industrial centers, schools and parking lots, aluminum fencing can be designed to handle it all. Residential fence panels at 6 feet high include an additional, 4th horizontal rail near the bottom rail. Industrial fence panels 7ft, 8ft, 9ft, and 10ft high include an additional, 4th horizontal rail near the bottom rail.
fence panel widths and heights
Small orders of 3 fence panels or less (6′ wide only, no rings) ship unassembled to obtain a much, much lower shipping fee. Easy on-site assembly.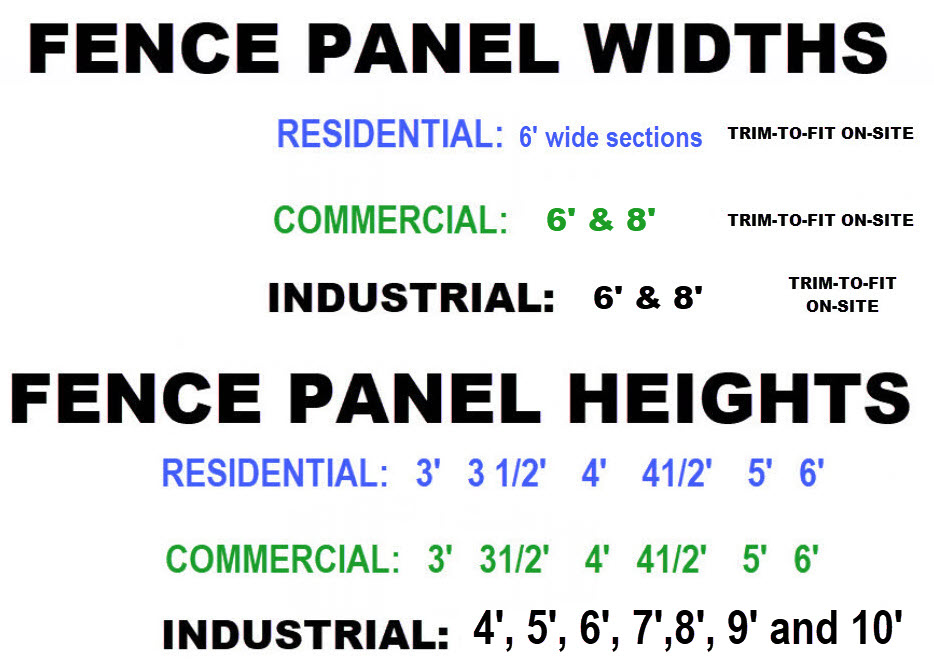 For all your estate fencing and gate needs, we are your top choice. Check out our best sellers and try out our fence configurator for some inspiration. You can also reach out to our team.
Place your orders today. Call our online sales division at 845-443-7242 or Contact Us if you have any questions.